Silicon Valley- and Open Source-veteran, Miko Matsumura, to Join Pinetree Capital Manila's June 26 Conference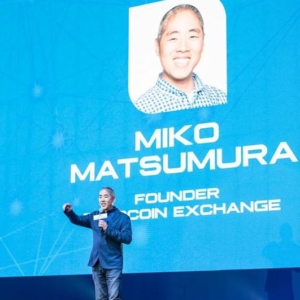 Silicon Valley- and Open Source-veteran
Miko Matsumura, to Join Pinetree Capital's June 26 Conference
MAKATI CITY, JUNE 14, 2019 — Miko Matsumura is a General Partner with Gumi Cryptos, a US $30M venture capital fund focused early stage Blockchain startups and a Venture Partner with BitBull Capital, a cryptocurrency fund-of-funds. He is also an advisor to Arrington XRP Capital. He is also cofounder of crypto exchange Evercoin,
Miko participated in the first wave of the Internet as Chief Evangelist for the Java Language and Platform at Sun Microsystems and is now fully engaged in the "Internet of Value."
With 25 years of enterprise software marketing experience in Silicon Valley, he has raised over $50 million in venture capital for Open Source startups such as Gradle, Hazelcast and has participated in multiple exits including INFRAVIO, webMethods, Db4O.
Mr. Matsumura has invested in open source money, advising successful startups like Naga Group ($50M Stock Trading), Playkey ($10.5M Streaming Gaming), Celsius ($50M Ether Lending), Wala (African Cryptobanking), Lottery.com (Online Lottery), Refereum ($30M Gamer Affiliate Marketing), Pundi X ($35M Payments), WiFiCoin, Guardian Circle (Decentralized Global 911 Emergency Services) and Hub (Decentralizing Professional Social Networking).
Miko is also an LP with Focus Ventures, a firm with over $800M under management, 9 IPOs and 44 exits. He holds a Master's in Neuroscience from Yale University, where he contributed to a paper on computational neural networks. He's leads the Crypto Underground meetup in San Francisco and is a well known speaker at many cryptocurrency and Blockchain conferences, worldwide.
ABOUT PINETREE CAPITAL
Pinetree Capital (Pinetree.ph) is an association of Filipino Family Corporations and Filipino-founded Single Family Offices, with offices in the United States and Southeast Asia. Pinetree.ph's investment interests range from traditional business models in real estate, healthcare, and financial services, to burgeoning businesses in spaces such as blockchain applications and digital therapeutics.